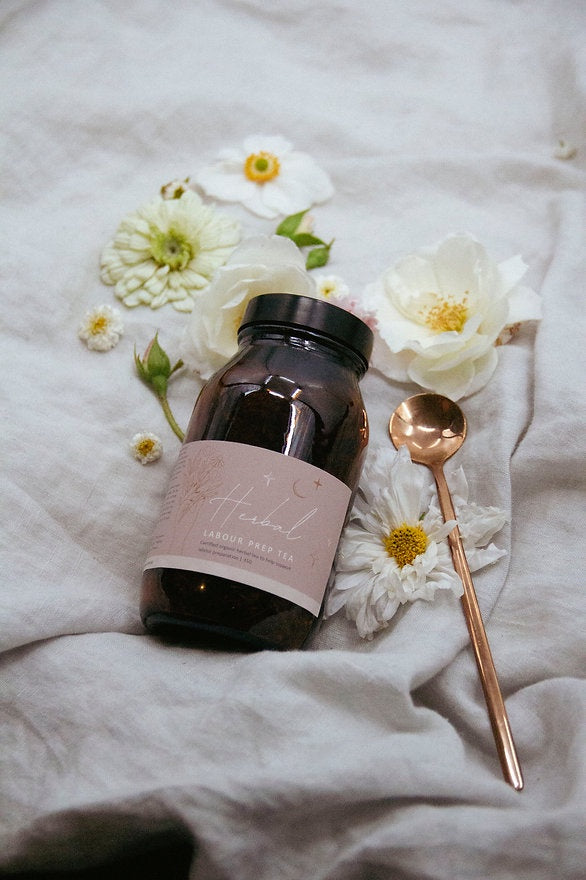 Mama + Me - Organic Loose Tea - Labour Prep
$25.50
Certified organic herbal tea to help support postpartum recovery | 35G
A lovely gentle tea which includes a combination of herbs to help expectant mama's prepare for labour and birth. It is rich in antioxidants, vitamins and minerals, including vitamins A, C, and E, as well as iron, calcium, and potassium making it an excellent uterine tonic.
Benefits include improved uterine health, increased blood flow to the uterus and strengthen of uterine muscle fibres. This should help improve the effectiveness of contractions during labour. Lemon Balm is also included to help with nervous tension, anxiety, and insomnia.
INSTRUCTIONS: Infuse 1 teaspoon in a cup of boiling water for 3-5 minutes. Strain. Sweeten or add a fresh lemon/orange slice can if desired. Herbs can be reused up to three times. The tea may encourage Braxton-Hicks, even increase their intensity, and should therefore be used from 35 weeks onwards. Start with one cup per day working up to 3-5 cups per day after one week. Tea contains 50% Raspberry leaf.  Consult health care professional if any concerns.
INGREDIENTS: (*Cert. Organic) *Rubus idaeus folia (Raspberry leaf), *Rosa canina fruit (Rosehips), *Hibiscus rosa-sinensis flos (Hibiscus Flowers), *Melissa officinalis  herb (Lemon Balm), *Calendula officinalis flos (Calendula Flowers)
MADE IN NZ. BY A CLINICAL MEDICIAL HERBALIST (BSc, C.H.M)
NATURAL ORGANIC INGREDIENTS
ECO FRIENDLY GLASS PACKAGING