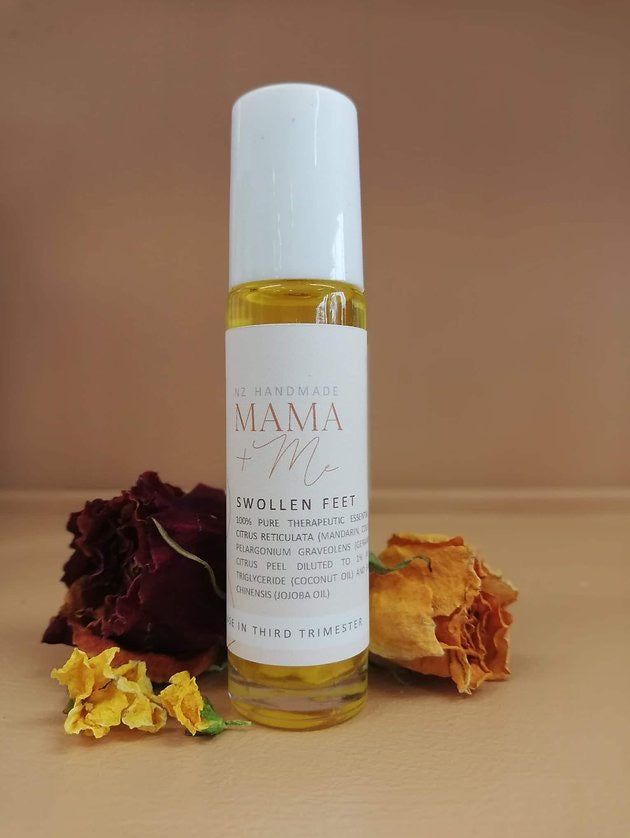 Mama + Me - Swollen Feet Roller Blend
$16.50
100% PURE THERAPEUTIC ESSENTIAL OILS OF CITRUS RETICULATA (MANDARIN, COLD PRESSED), PELARGONIUM GRAVEOLENS (GERANIUM) WITH CITRUS PEEL DILUTED TO 1% IN CAPRYLIC TRIGLYCERIDE (COCONUT OIL) AND SIMMONDSIA CHINENSIS (JOJOBA OIL)
Firm upwards massage from ankle to knee. Comes in two different strengths of diltuition suited for different stages of pregancy.
1% dilution for use from 2nd trimester onwards
Aromatheropy safety guidelines.
Avoid essential oils in first trimester (lemon inhalation only after 10 weeks)
Use lavender and Roman Chamomile with caution with asthma and seasonal allergies.
Avoid use of Clary sage or Lavender (sedative hypotensive oils) with epidural until blood pressure normalizes post-epidural.
Avoid Rose with increased bleeding and hemorrhage.
Avoid aromatheraphy with epilespy, high-risk pregnancies, liver or renal disease, preeclampsia, eclampsia, placenta previa and reduced fetal movements.
 Exercise extra caution with breech, diabetes, asthma, allergies, hypertension, hypotension, bleeding disorders, history of miscarriage, hemorrage and allergies to plants or aromatics.