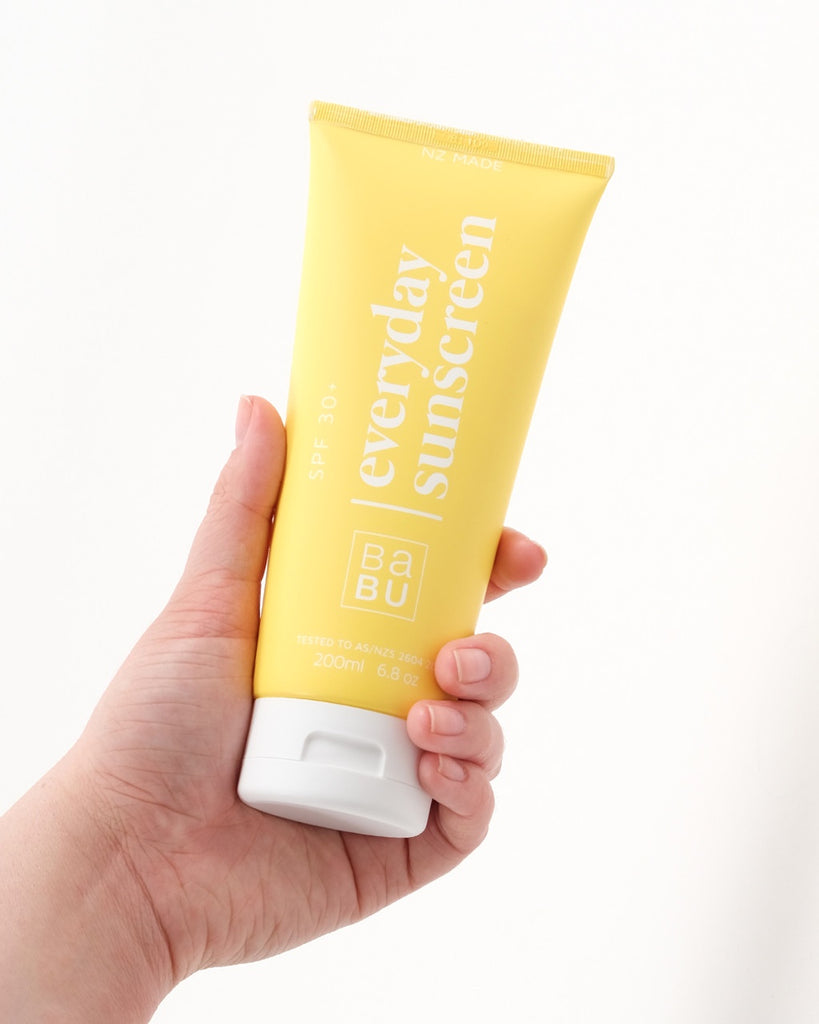 Babu - Everyday Sunscreen (200ml)
$34.50
Babu's skincare range is proudly made in New Zealand. It smells simply delicious, just read the reviews!
With a high SPF factor (30+SPF) and organic ingredients of coconut oil, jojoba and evening primrose oil, Babu™ baby sunscreen soothes and protect your baby's delicate skin against UVA and UVB rays.
It's paraben free  and cruelty free with a physical and chemical sunscreen (see ingredient list below) for the harsh sun. In a 200ml tube, our sunscreen is made with natural papaya fragrance imported from France that will have your summer smelling sweet.
I have been using this on my children and am happy to say that there is no drama in the morning before school, they are actually fighting over who uses it first! Smells delicious and absorbs quickly.
We recommend this is used on babies from about 6 months old.
WINNER; 2018 OHBABY Magazine Awards for BEST Sunscreen (as voted by the public)

Features:
1 x 200ml Tube
Broad Spectrum
Smells completely delicious
Provides a 30+SPF coverage
Soothes the skin with nutrient rich oils
Raved about by one and all 
Tested to AS/NZS 2604 (2012)
Ingredients
: Purified NZ Water, Cetearyl alcohol (and) PEG 20 stearate, Octylmethoxy Cinnamate, Benzopenone 3, Cyclomethicone, Butyl Methoxydibenzoylmethane, Titanium Dioxide, Isopropylmristate, Phenoxyethanol (and) Ethylhexylglycerine, Polysorbate 80, Organic Coconut Oil (Cocus nucifera), Organic Simmondsia Chinensis (Jojoba) Seed Oil, Organic Oenothera Biennis (Evening Primrose) Oil, Diazolidinyl Urea, Sorbitan Monostearate, Triethanolamine, Tocopheryl Acetate, Lanolin, Carbomer and 100% Natural Papaya fragrance (Caria papaya)        
 
What is SPF?
SPF, meaning sun protection factor, is a measure of UV light penetration. Sunscreens with an SPF rating have been tested for the amount of UV light passes through the screen. For more information about sunscreen, check out our blogs: "Water resistant sunscreen do's and dont's", "Sun protection for babie's and everyone!"
 
Why do we burn more in New Zealand?
Unfortunately for us the sun is a little harsher here in New Zealand. A combination of our environment and damaged ozone layer make us more susceptible to nasty burns. Read our blog here to find out more.