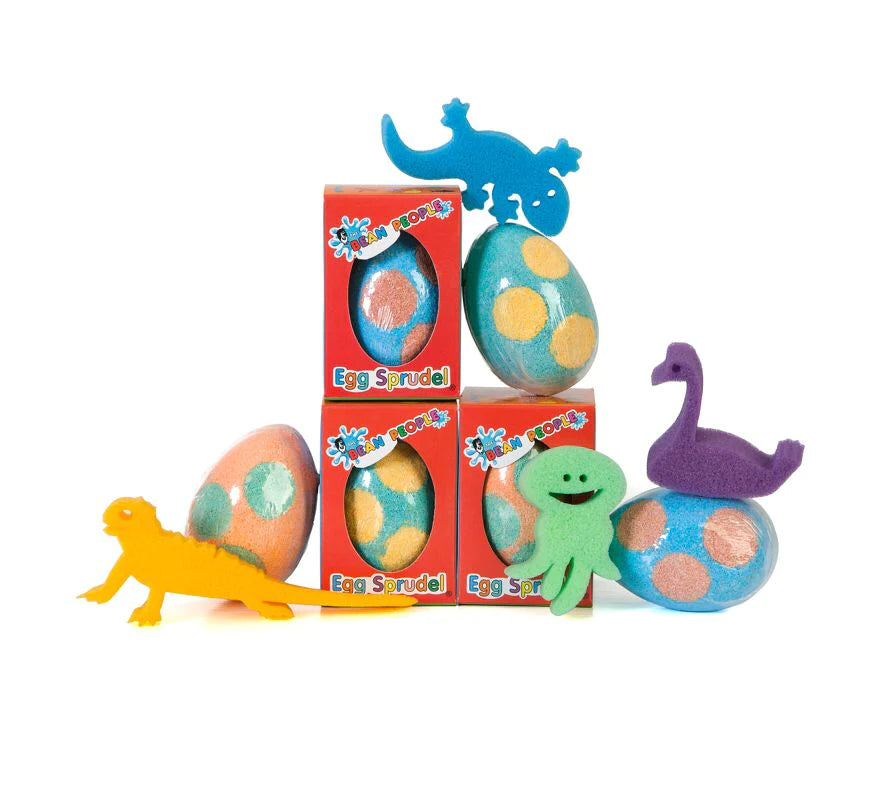 Bath Buddies - Bath Bomb - Egg Sprudel
$6.00
Fizzy fantastic Egg Bath Bomb Sprudels® 
Surprise colour Bath Bombs for kids! 3 spotty dotty colourful hatching Bath Bomb Egg Sprudels® to choose from, hidden inside each Egg Sprudel is a sponge creature that hatches out of an Egg and there are over 40 different animal / creature shapes to collect!  Plus they each fizz in 2 colours - super exciting!
So what's hiding inside and how do I choose my egg?  Here's a sneak peak of the 3 themes and colours, but there's lots and lots more options hiding inside!
Blue with red dots:  Sea creatures such as sharks, penguins, octopus, fish etc
Turquoise with yellow dots:  Birds and flying insects, swans, albatros, butterflies, dragonflies etc
Orange with green dots:  Reptiles and bugs incl crocs, lizards, tortoises, bees, frogs, ladybirds etc
What makes an Egg Sprudel® different from an ordinary Bath Bomb?  Our Bath Sprudels® are unique in a few aspects, the most exciting feature that sets these bath bombs above the rest is that Egg Sprudels® come in 3 vibrant colours, they fizz, colour the bath water and each fizzy egg has a surprise sponge toy hidden inside!   Besides being awesomely fun, unlike many other bath bombs on the market that are made for adults, Bath Sprudels®are made especially for children. 
All products are REACH certified and compliant with  Australian, NZ, USA and European CE toy regulations. They do NOT contain heavy perfumes, soaps, oils or SLS's that are often found in other bath bombs .    Never, ever tested on animals.  
All our products are hand-made and contain only food-grade ingredients; making them safe for children to enjoy.  Plus they won't stain your bath - or your children!  Variations to shape and colour may occur.