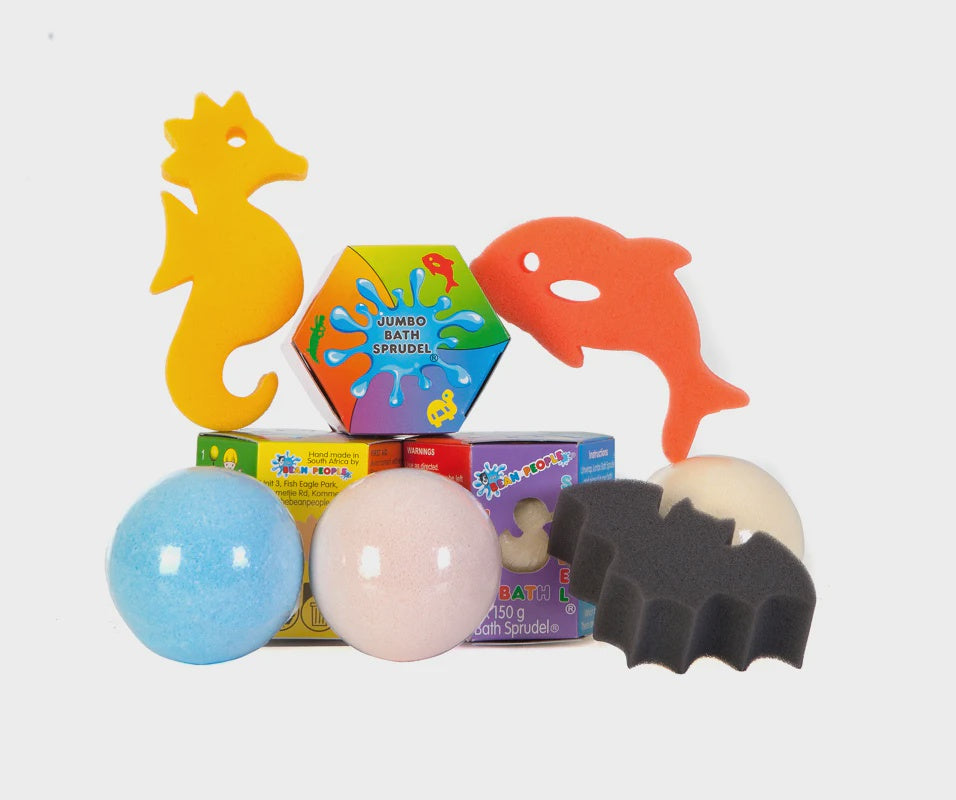 Bath Buddies - Bath Bomb Jumbo Sprudels
$12.50
NEW* COLOUR-CHANGING JUMBO BATH BOMB SPRUDELS® 150G
Supersize the Sprudel®!!!  It's BIGGER, FIZZIER and BETTER than ever before and contains a FULL-size chunky sponge toy with over 20 new shapes to collect!  These are great for kids of all ages, especially for our teeny little buddies!   
Learn about colour mixing as the JUMBO Sprudels fizz and froth in the bath water, starting as a primary colour, then a secondary pop of colour which changes the bath water colour twice, followed by a huge big full sized JUMBO sponge that magically appears at the end!
3 Colours to choose from and over 20 JUMBO sized sponges to collect!
Blue with red layer changing to PURPLE
Red with yellow layer changing to ORANGE  
Yellow with blue layer changing to GREEN  
Collect over 20 JUMBO sponges!  Rhino, fish, hippo, elephant, crocodile, submarine, shark, seahorse, crab, tortoise, whale, bat, triangle fish, rainbow fish, orca, penguin, seal, dolphin, duck, pufferfish, frog, polar bear and the Easter Bunny!
Soft, safe and gentle surprise Bath Bomb Sprudels, made especially for children!
All products are REACH certified and compliant with  Australian, NZ, USA and European CE toy regulations. They do NOT contain heavy perfumes, soaps, oils that are often found in other bath bombs .    Kind to the planet, never ever tested on animals. 
All our products are hand-made and contain only food-grade ingredients; making them safe for children to enjoy.  Plus they won't stain your bath - or your children!  Variations to shape and colour may occur.
 Team them up with a pack of sponge toys Bath Beans® or a Single Bath Sprudel for a fantastic gift idea!
Ingredients:  Sodium Bicarbonate, Citric Acid, Sodium Lauryl Sulfocetate, Aqua, Flavour.  Blue Jumbo Sprudel: CI 42090, CI 16035 / Yellow Jumbo Sprudel:  CI 19140, CI42090 / Red Jumbo sprudel:  CI 16035, CI 19140
The ULTIMATE Bath Sprudel® experience!